Welcome to LFD's Interim Newsletter

To keep legislators and staff better informed between legislative sessions, the Legislative Finance Division will begin sending out a periodic interim newsletter. By default, we are sending this to all legislators as well as every user who is signed up for our email alerts. To opt out of future emails, visit this page, enter your email address, and click unsubscribe.


Summary of Appropriations and Conference Committee Books Published

LFD publishes two annual post-session publications: the Summary of Appropriations and Conference Committee books. The Summary of Appropriations was released in September and the Conference Committee Books were released in August. In addition to the online versions, hard copies are available in the legislative print shop.

The Summary of Appropriations is a historical record of budget actions made this session, with detailed reports, tables, and the final appropriation bill text. This document is primarily intended for historical reference and does not contain any narrative.

Conference Committee Books are published for each agency and provide detailed information on what happened in each agency's budgets. They contain a narrative summary of major changes, plus budget reports showing funding information and transactions for each agency. These are a useful reminder of what happened this session.


Implications of Updated Permanent Fund Earnings

The Alaska Permanent Fund Corporation (APFC) released its actual FY20 earnings figures and updated projections for FY21-30. The updated History and Projections sheet has a few implications for Alaska's budget.





APFC's accounting net income in FY20 was $1.6 billion, about a 2% return. While this is below the midpoint projected return of 7%, the DOR's Spring Revenue Forecast used APFC's low return scenario of -0.52%, so this actually exceeded that projection. The FY22 POMV draw (which is based on the fund's ending balances from FY16-20) will be $3,069.3 million. This is above the Spring Forecast projection by about $21 million, but below the midpoint estimate (which was used in the Fall Forecast) by about $26 million. This is also below the FY21 POMV draw of $3,091.5 million because the statutory POMV draw is set to drop from 5.25% to 5.00% in FY22.

The Permanent Fund realized statutory net income of $3.1 billion in FY20. This is the amount that actually flows into the Earnings Reserve Account (ERA) and is used to calculate the statutory Permanent Fund Dividend. This closely matched the 'Low' scenario used in the Spring Forecast, which estimated $3.2 billion of Statutory Net Income. As a result, the ERA's realized balance ended FY20 at $11.5 billion. The statutory dividend for FY21 would have been $2,914 per person based on a total cost of $1.9 billion.

APFC also updated its FY21-30 return assumptions, as estimated by its consultant Callan. The previous assumption was a 7% average total return for both total income and statutory net income. The updated assumption for FY21-30 is a 6.75% total return and a 6.40% statutory return. The difference between these two numbers means that not all of the return will go into the ERA each year and the unrealized portion of the Permanent Fund's balance will grow over time.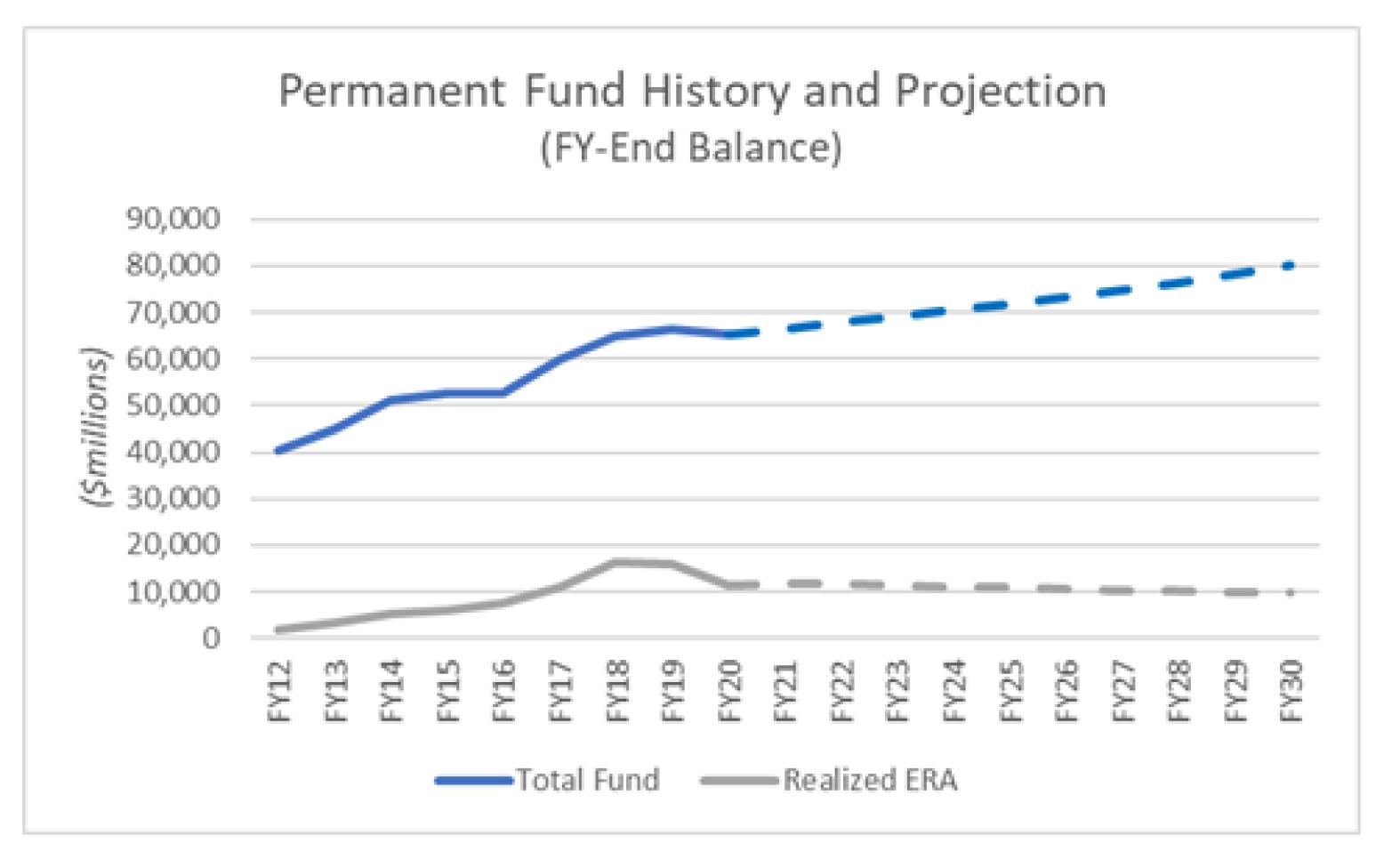 The total value of the Permanent Fund was $65.3 billion at the end of FY20, down from $66.3 billion at the start of the year. That is because the POMV draw of $2.9 billion exceeded the Fund's earnings and royalty deposits by about $1 billion. APFC estimates that the Fund's total balance will be $80.0 billion at the end of FY30 assuming that POMV is the only draw out of the Fund going forward.

The statutory PFD calculation for FY22 is estimated to be an appropriation of $2.0 billion, paying a dividend of about $3,077 per recipient.


LFD in House Finance on October 2nd

The Legislative Finance Division will present to the House Finance Committee on Friday, October 2nd on the fiscal outlook for FY21 and FY22. Meeting documents will be posted on BASIS prior to the meeting.